After 5 years of teaching Spencerian online, I have redesigned this course to incorporate what I have learned from teaching and providing detailed feedback to over 1,000 students.
This meticulously prepared course with over 11 hours of instruction will lead you through my original specimen collection.


Instead of teaching you to write like Spencer or like me, I compile exemplars of each letter in the alphabet from various masters for us to study one by one and side by side.


You will learn how to execute the script, how to critically assess your work, how to study exemplars, and how to practice effectively.
We will learn:
- forms of lower and uppercase letters as executed by multiple penmen
-principles of spacing when combining letters to form words
-rules about shading--when and how much to shade so your Spencerian is light and delicate
-how to construct flourished Spencerian text
[Scroll down to see the Course Curriculum for an exact breakdown]
Through close examinations of work by various masters, I will train your ability to identify your strengths and weaknesses in your own practice so that you are equipped with the tools you need to develop your own style at the end of the course.
You are not too inexperienced for this comprehensive course. If you are completely new to pointed pen, there is a full module dedicated to how to get acquainted with your tools and begin from ground zero.


If you follow the course and practice diligently, you will not need another "intermediate" course to take you to the next level. You will not need another course to execute flourished capitals.
You are not too "advanced" for this "beginner-friendly" course. My analysis has consistently offered new insights about the script for students who have been practicing for years.


This course will be your trusty and dependable resource for the foundations and growth of your pointed-pen journey.
Results are inevitable with my guidance if you are willing to put in the work.


The stunning progress of my students over the years speak for themselves.


Here are some recent samples. This too, can be your growth in less than 6-months time.
A lot of time, experience, and heart goes into each minute of each class I teach to make sure that I am packing as much value as I can for you.


No throat-clearing, no dramatic editing, no frills--all content--10hrs + of content. Most students spend about 4-5 hours digesting 15 minutes of instruction.


All of my energy is directed at helping you achieve that delicate and graceful Spencerian aesthetic, and create each letter by movement without hand cramps. It is my mission to show you that you are completely capable of executing the script you desire.
"I spent SO much money on other online courses and books. It's been four years and if I had to start all over again, Spencerian Structures would be my main source. So if you are hesitating at all, this course is like...if I had to pick just one source and start all over again, Spencerian Structures would be it."


"Spencerian Structures has taught me what to look for, what you want to execute, and what you are suggesting when you execute the letterform. She's quite strict on how you execute the letterform. You have to respect the script as it is. I feel that when I attend other classes, there's not enough emphasis on respecting the letterform. Because of Spencerian Structures, I was able to look at other scripts and break it down to its principles and understand it and pick it up. The other scripts are easier because of Spencerian Structures."


"This is the best online program structure for me. It's organized in bite-size, focused on the theories and I learn the principles well without practicing one full page of the same letter. I am doing the fundamentals right, which is a much better use of time. Effective learning and practicing right to achieve the right results. It keeps me motivated to watch your video and practice only 3 times to see what went well and what could be improved. Love this effective teaching and learning style. This course is not only teaching me Spencerian but also applying this learning method in other areas of my life. I have a background in instructional designs and learning and development. It's so hard to find such well designed and developed online courseware. I'm really benefiting a lot learning from you."


"Seriously underpriced. I didn't always feel it was underpriced but as I slowly went through it I increasingly felt the value. I mean it can't be possible I can't finish watching bite-sized videos right but that's exactly what happened. Bite-size but loaded. I have been thinking why for a 15min video I am at it for 4h? There's a lot in it. Not just the information but also executing it and getting new insights, not just blindly writing hundreds of times."


"I've been devouring the principles over and over. There's so much to digest even in just a couple of minutes of a lesson. Having you as an instructor has also revealed to me that I'm a very technical learner. I feel so appreciative for what you've offered and I'm so glad I decided to sign up for your course. As a mom of a young child, upon starting your course I began to realize that I had a misconception of an endless amount of 'time' to practice in order to get better. I was definitely prioritizing time to focus on practice but through your course I've gained a better understanding of quality practice. Now, even when I only have 10-15 actual practice minutes, I can still walk away feeling like I contributed something to this new lesson. Thank you Connie."


"I've taken Spencerian classes online but the way you explain things just amazes me. I've always felt that it is just too hard but I am really starting to see that I am capable of creating the look I want." 
-Jacinda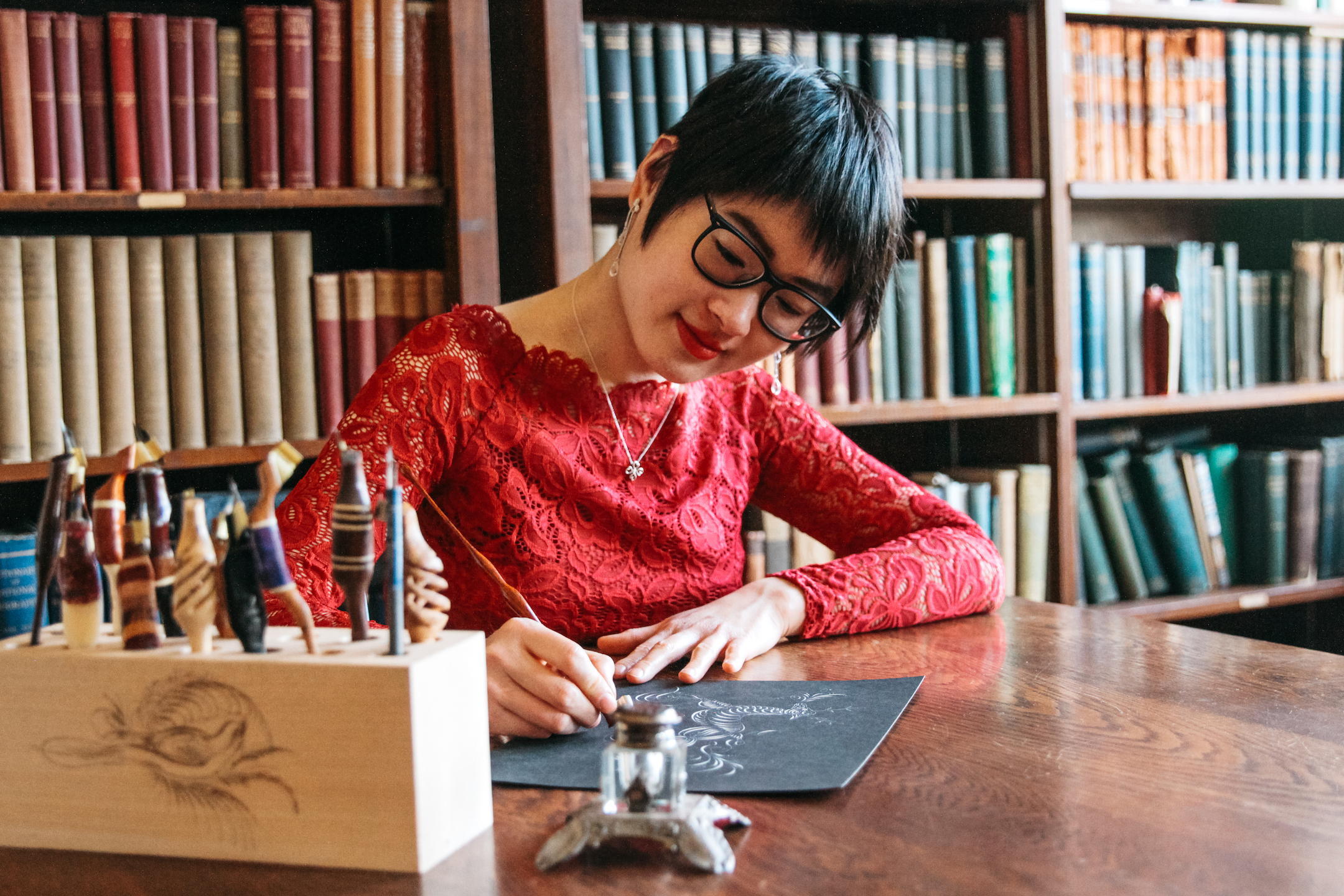 Master Penman Connie Chen is the youngest Master Penman in the world, and the only one recognized for her skills in Engrosser's Script, Ornamental Penmanship, and Offhand Flourishing by both Senior Master Penman William A. Lilly and Master Penman John DeCollibus.
A current graduate student at Harvard University, Connie apprenticed to Senior Master Penman William A. Lilly, who earned a Gold Seal Certificate at the Zanerian College, the top award given by America's leading school of penmanship and engrossing. With more than 20 years of experience in English and Chinese calligraphy, Connie creates art that transcends the boundaries of geography, culture, and time.
After providing detailed feedback to more than 2,000 students in over 5 years of teaching calligraphy courses online, Connie knows intimately what students struggle with in each script. Her attentiveness to detail and devotion to her students have consistently produced significant progress in their work.