If you are tired of repeating the same ending flourishes, searching and saving flourishes on Instagram to copy, this 10+hrs comprehensive course is for you.


Within the first 2 weeks of the course, you will have all the tools you need to design your own flourished capitals so you NEVER have to copy flourished exemplars again.
If you are skeptical, my current students were too. Read what they have to say below.
Through 6 projects that vary in length and difficulty, I will show you how I freehand flourished text without penciled drafts and french curves.


I will walk you through the thought process that you do not see from photos and videos of my work.


I will demonstrate the various ways I envision the layout and composition and how they translate into the split-second decisions I make when my nib lands on paper.


Unlike any course I have offered, this is more than pulling up a seat next to me at my studio--it gives you full access to my artistic consciousness.
I did not have access to a flourishing course when I started and I could not find any comprehensive information on how to flourish text.


I have basically plugged a USB into my brain and downloaded everything I learned for you through teaching and experimentation that led me to become the flourishing queen that I am today.


You will not find this information anywhere else, not even in penmanship archives.
If you want to figure out how to do this once and for all,
if you want to develop your style that will set your work apart from the repetitive flourishes on IG,
if you want your calligraphy business to stand out and thrive,
this is the course for you.


Now, let's address what's on your mind: "How do I justify my investment?"


I am also a student always choosing my next investment when it comes to my education. It is terrifying.


But, I invite you to consider this:


How much money and time are you losing out on with your current approach to flourishing?


Have the courses you took helped you develop a style distinctly different from your teacher's?
How often do you go through someone else's work before you plan a piece?
Investing in this course will pay for itself.


What is harder than making the investment is waiting yet another year with no clarity and the same frustration, hearing everyone give the same compliments on your work and yet knowing that you are stuck...


...while current students in the course are telling me that they are "actually smiling" as they experiment, and "learning never got this fun."


Flourishing is not rocket science.


Let me show you so you can start enjoying the process.


When you do, your calligraphy style will emerge and fully embody who you uniquely are on paper.
*While I deeply respect other forms of art, I firmly believe that calligraphy is an art that needs no embellishments of leaves, flowers, and watercolors. No projects in this course will use these ornamentations. Instead, I will guide us to honor the beauty of the letterforms that first drew us to pick up our pens.
All students will have unlimited access to the course as long as I continue to teach it so you can work at your own pace.
"Maybe I can figure out flourishing on my own?"
I invite you to consider: Why haven't you done so already? What are you planning to do differently to figure it out? Will more of the same accomplish anything? Take advantage of my expertise to expand the parameters of what you can figure out.


I have taken/am taking another flourishing course, but I still find myself considering this course. How will I know my investment be worth it this time?
I invite you to consider: Have you learned from your current course how to create forms that are NOT on your handouts? does your work look like yours or your teacher's? If you hesitated, you can benefit from my course which focuses on how to think, not how to copy.


"I am still working on my letterforms. I want to wait till I am ready for flourishing."
Take a look at your own Instagram feed and practice sheets to see how much you have attempted flourishing anyhow. Learn to do it right if you are doing it anyways in secret. Flourishing is not the graduation gown of letterforms. The hierarchy you are buying into where flourishing is harder, that you should learn it "after," is a lie. If I could have watched and rewatched these modules when I was a complete beginner, I would have. Because it would have helped me extract so much more information when I studied flourished pieces and experimented with layout.


How will a beginner benefit from this course?
Both beginners and advanced students will benefit significantly from this course. For beginners, this course will demystify flourishing and you will be able to apply what you learn immediately in your layout and ability to analyze and extract knowledge from the exemplars you study. As you have unlimited access to the course as long as I continue to offer it, you can return and review as you grow as a calligrapher and realize something new every time.


Will there be handouts with a list of variations from A-Z?
There will be handouts but I will not offer you variations to copy. Instead, I will teach you how to think, how to assess the variations you create so you can develop your own style.


Is it really possible for my flourishing to have my own style? Isn't it safer to copy?
It is not only possible. It is inevitable. You are unique because you are you and there is no reason why your flourishes should/would look like anyone else's.
Do I need to know Spencerian or Engrosser's Script to take the course?
I will be using Spencerian and Engrosser's Script in the course but I do not expect you to know both. As this course focuses solely on flourishing, I will not be placing an emphasis on script styles or critiquing letterforms.
Can I take the course if I am a modern calligrapher?
Of course! The same rules of flourishing applies. Please note that I will not be demonstrating in modern calligraphy.
Will this course cover quill and bird flourishing?
I love pictorial flourishing but this course is solely dedicated to flourishing text.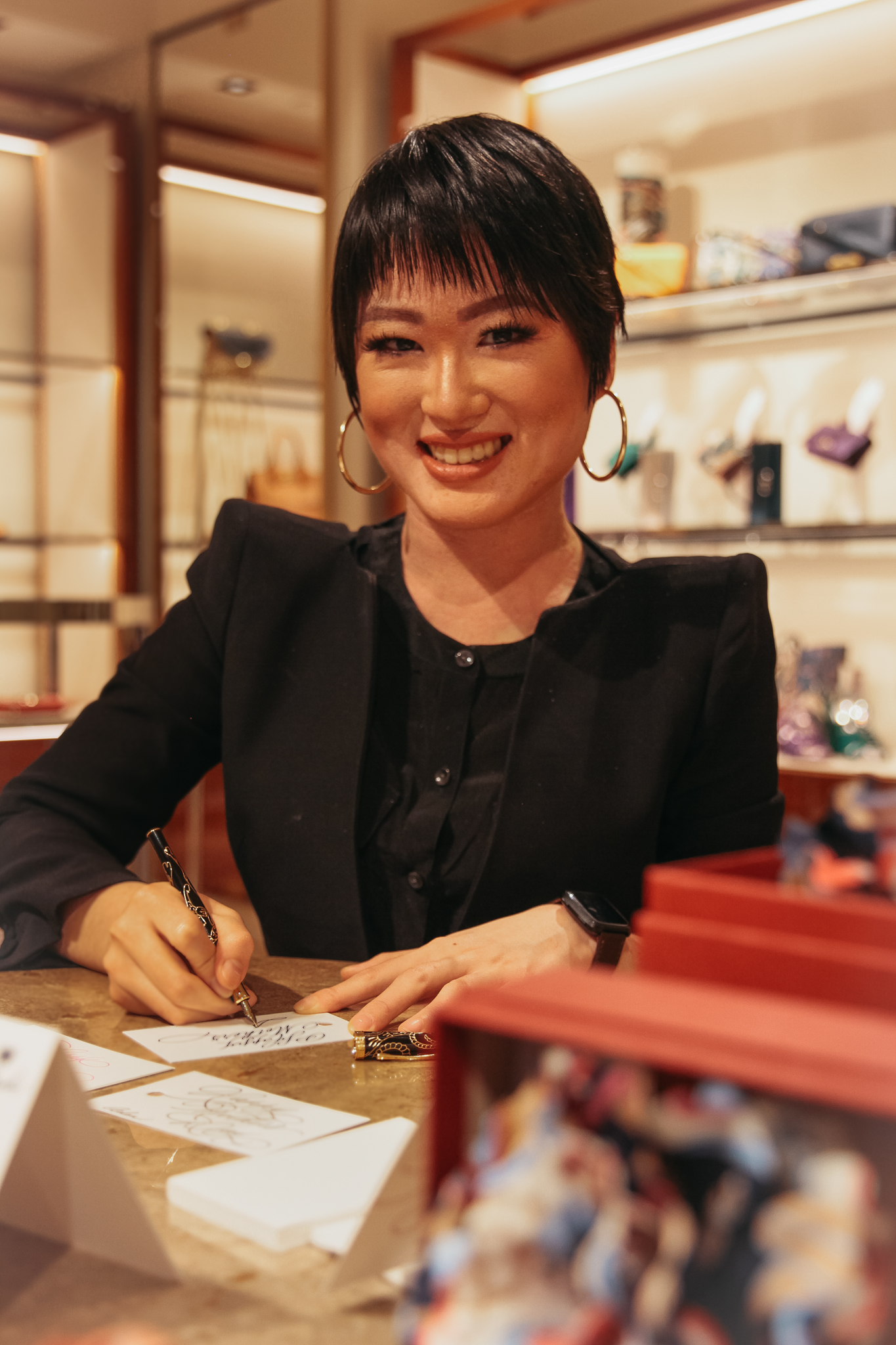 Your Instructor
Master Penman Connie Chen is the youngest Master Penman in the world, and the only one recognized for her skills in Engrosser's Script, Ornamental Penmanship, and Offhand Flourishing by both Senior Master Penman William A. Lilly and Master Penman John DeCollibus.
A current graduate student at Harvard University, Connie apprenticed to Senior Master Penman William A. Lilly, who earned a Gold Seal Certificate at the Zanerian College, the top award given by America's leading school of penmanship and engrossing. With more than 20 years of experience in English and Chinese calligraphy, Connie creates art that transcends the boundaries of geography, culture, and time.
After providing detailed feedback to more than 2,000 students in over 5 years of teaching calligraphy courses online, Connie knows intimately what students struggle with in each script. Her attentiveness to detail and devotion to her students have consistently produced significant progress in their work.